Product Description
Fully-integrated Black Box System
Black box solution that provides a powerfully simple integrated helm
Compatible with 48, 43 and 38 cm (15", 17" and 19") Garmin multi-touch marine monitors
SmartMode™ control quickly changes all screens at a helm in sync
Integrates…everything, various sonar technologies, integrated autopilot, connectivity, apps, engine data and more
Can be paired with external GPS 19x 10 Hz GPS/GLONASS receiver that updates position and heading 10 times per second
Low profile flush mount or smooth flat mount for a glass helm look
Includes BlueChart® g2 cartography
The GPSMAP 8530 black box system provides a powerfully simple, fully-integrated helm that can give your boat a beautiful glass helm look. Enjoy pinch-to-zoom on preloaded worldwide, detailed BlueChart® g2 marine charts and SmartMode™ control when accompanied by Garmin marine 15", 17" and 19" touchscreen monitors (38, 43 and 48 cm).
Add Multi-touch Monitors
Enjoy full touchscreen operation including pinch-to-zoom and other touch controls for intuitive operation when accompanied by Garmin marine 15" (XGA resolution), 17" (SXGA resolution) and 19" (SXGA resolution) touchscreen monitors (sold separately). Anti-glare and bright LED backlighting makes these displays clearly viewable on the monitors in bright sunlight; auto-dimming provides outstanding visibility at night.
Full System Integration
Integrates…everything, including various sonar technologies, integrated autopilot, connectivity, apps, engine data and multi-media. SmartMode control allows the user to quickly change all screens at a helm in sync to a preset mode. Everything you need is at the tip of your finger, all on one screen.
Customise Layouts with SmartMode Control
Fully customisable layouts, data and gauges allow you to place the information you need to see right where you want it. SmartMode control allows you to switch all monitors in sync from one mode to another without manually switching each monitor separately.
Pair with GPS 19x 10 Hz GPS/GLONASS Receiver
Can be paired with a Garmin GPS 19x external 10 Hz GPS/GLONASS receiver that updates position and heading 10 times per second to display a more fluid vessel movement and dramatically improves your ability to accurately mark and navigate to 5,000 waypoints (sold separately).
Requires Garmin Card Reader
Provides convenient remote mounting and a single access point for 2 SD™ card slots for mapping. You can add multiple card readers for additional access points. Waterproof magnetic door allows card reader to be mounted horizontally or vertically (sold separately).
GRID™ (Garmin Remote Input Device)
A remote device that provides full control of all GPSMAP 8500 black box series units. Rotary knob and joystick controls provide navigation through menus and screens and allows you to seamlessly navigate between monitors at a station. Control single or multiple monitors with one device. Supports multiple devices per station. Small footprint can be integrated into a captain's chair (sold separately).
Includes BlueChart g2
BlueChart g2 marine maps feature crisp labeling and an overall smooth presentation on your chartplotter display. In addition to the basic charts, tidal stations, currents, depth contours, IALA symbols and included fishing charts, BlueChart g2 offers smooth transitions between zoom levels and seamless continuity across chart boundaries.
NMEA 2000 Support
This combo allows you to add more capabilities to your boat. It provides NMEA 2000 support so you can see valuable information on your screen for Garmin autopilot, engine data and more.
Enhanced Auto Guidance
Just enter the location where you want to go and patented Garmin Auto Guidance technology instantly searches through relevant charts to create a safe virtual pathway on the display that helps you avoid low bridges, shallow water and other charted obstructions en route.
Better still, with enhanced Version 2.0, you now have access to even more features and capabilities. You're able to adjust the calculated Auto Guidance pathway by inserting "via" points at interim stops or landmarks along your desired route. You can easily review hazard points along your calculated path. And you can even engage your compatible Garmin autopilot to follow the Auto Guidance route, automatically. Other 2.0 enhancements give you the ability to calculate arrival times at any point on your route (great for timing arrivals to correspond with bridge openings and other time-critical events). Better still, you can now save your plotted Auto Guidance paths for future navigation by backing them up on an SD™ card with your BlueChart® g2 Vision® or Lake Vü™ HD Ultra cartography¹.
Simplified SOS Calling
This exclusive SOS safety assist feature makes it easier for anyone – even those not familiar with marine electronics or radio protocols – to quickly call for Coast Guard help in an emergency. By simply tapping the SOS button on the chartplotter's touchscreen display, your networked Garmin VHF radio will automatically tune to the Channel 16 emergency frequency and a list of possible situations (Ffire, man overboard, etc.) will be displayed. Once the applicable choice has been selected, the screen will provide a Coast Guard approved VHF radio distress call script, along with the ship's current lat/long GPS coordinates, that can be read off to responders – thus saving time, averting panic, and providing the essential information needed by rescuers to assure the best possible outcome.
GPX Waypoints Transfer
If you have waypoints, tracks or frequently used routes stored on another manufacturer's GPS product – or on a Garmin handheld device –  now it's easier than ever to transfer those items to your new Garmin chartplotter, via industry-standard GPX software formatting. GPX is an open standard format for GPS data exchange across platforms and applications. With this easy-to-use interface technology, Garmin has taken "no waypoint left behind" to a whole new level of trade-up convenience.
Special Sailing Features
To help you gain a wind-maximizing competitive edge, your chartplotter features a pre-race guidance page that shows your virtual starting line, along with data fields showing laylines, time to burn before the start and a race timer that can be synchronized across all your networked Garmin GPS products. In addition, other supported sailing features include an enhanced wind rose, heading and course-over-ground lines, set and drift, true and apparent wind data and more. You can also use available built-in wireless connectivity to access and control a variety of marine-specific apps via compatible smartphones or tablets.
Panoptix™ Down Transducer
With 1 Panoptix Down transducer, you get 3 remarkable views, allowing you to actually see fish and bait swimming around under your boat – in real time. You can even see fish in the water column in 3-D, from the bottom to the surface. You can be stationary yet still see things in 3-D below your boat.
Panoptix Forward Transducer
One Panoptix Forward transducer provides 2 impressive views, even while your boat is stationary. It shows the bottom plus fish and bait swimming in the water column in front of your boat – in real time. You can even see your lure as you reel it in. You can also get 3-D views of fish and structure in front of your boat.
Create your own HD maps
Quickdraw Contours is a free, easy-to-use software feature that is already installed on your Garmin. It instantly creates your very own personalised HD fishing maps with 1 foot contours. Tailor them to fit your needs. They're your maps. You own them. Keep the data to yourself or share it with Garmin or your friends. There's no special surveying expertise required. You just fish while it creates maps. You don't have to wait around or send your files away like other mapping software requires — your results appear instantly. Use with any Garmin Panoptix™, any HD-ID™, any CHIRP-enabled, Garmin DownVü™ transducer or NMEA 2000®-compatible depth transducer. Have more than 1 sonar device installed onboard? Quickdraw Contours automatically selects the most capable sonar device to provide the very best results for you!
Multiple Depth Range Shading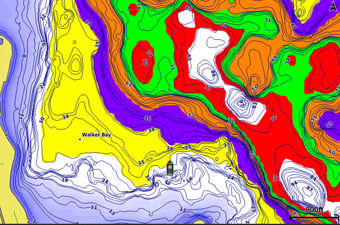 Designate up to 10 different depth ranges each with its own colour. Makes it easier to view target depths at a glance.
Commission Autopilot from Chartplotter
To make commissioning easier and more convenient, you can handle the entire autopilot commissioning process from your chartplotter screen.